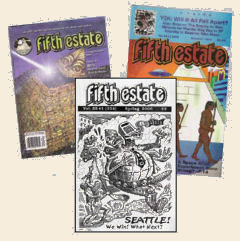 Back issues of Fifth Estate are available at $4 each. U.S. orders only; for other countries, please contact us for postal rates.
How to order
From the drop-down list at the bottom of this page, select the quantity of FE back issues you wish to buy.
In the text box below the drop-down list, type the issue numbers you want to buy.
Click the PayPal button to start your online purchase.
Back Issues available
364, Spring 2004
365, Summer 2004 — Reconsidering Primitivism
366, Fall 2004 — Radical Education
367, Winter 2004-2005
370, Fall 2005
371, Winter 2006
372, Spring 2006
373, Fall 2006
374, Winter 2007
375, Spring 2007
376, Halloween 2007
377, March 2008
378, Summer 2008
379, Fall 2008
380, Spring 2009
381, Summer-Fall 2009
382, Spring 2010
383, Summer 2010
384, Spring 2011
385, Fall 2011
386, Spring 2012
387, Summer 2012
388, Winter 2013
389, Summer 2013
390, Fall 2013
391, Spring/Summer 2014 – Anarchy!
392, Fall/Winter 2014 – Art & Anarchy
393, Spring 2015 – Anti-Marx
394, Summer 2015 – Technology
395, Winter 2016 – 50th Anniversary
396, Summer 2016
397, Winter 2017
398, Summer 2017