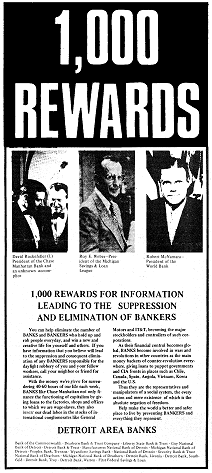 David Rockefeller (left) President of the Chase Manhattan Bank and an unknown accomplice
Roy E. Weber, President of the Michigan Savings & Loan League
Robert McNamara, President of the World Bank
1,000 REWARDS FOR INFORMATION LEADING TO
THE SUPPRESSION AND ELIMINATION OF BANKERS
You can help eliminate the number of BANKS and BANKERS who hold up and rob people every day, and win a new and creative life for yourself and others. If you have information that you believe will lead to the suppression and consequent elimination of any BANKERS responsible for the daylight robbery of you and your fellow workers, call your neighbor or friend for assistance.
With the money we're given for surrendering 40 to 60 hours of our life each week, BANKS like Chase Manhattan not only finance the functioning of capitalism by giving loans to the factories, shops and offices to which we are wage-slaves, they also invest our dead labor in the stocks of international conglomerates like General Motors and IT&T, becoming the major stockholders and controllers of such corporations.
As their financial control becomes global, BANKS become involved in wars and revolutions in other countries as the main money backers of counter-revolution everywhere, giving loans to puppet governments and CIA fronts in places such as Chile, Canada, Spain, Angola, Vietnam, Korea and the U.S.
Thus they are the representatives and manipulators of a social system, the every action and mere existence of which is the absolute negation of freedom.
Help make the world a better and safer place to live by preventing BANKERS and everything they represent.
DETROIT AREA BANKS
Bank of the Commonwealth
Dearborn Bank & Trust Company. Liberty State Bank & Trust. City National Bank of Detroit
Detroit Bank & Trust
Manufacturers National Bank of Detroit
Michigan National Bank of Detroit
Peoples Bank, Trenton
Wyandotte Savings Bank
National Bank of Detroit
Security Bank & Trust National Bank of Dearborn
Michigan National Bank of Dearborn
Detroit Bank, Livonia
Detroit Bank, Southfield
Detroit Bank, Troy
Detroit Bank, Warren
First Federal Savings & Loan