Summer 2018, FE #401

CONTENTS
Anarchists and Guns
PAUL WALKER
J20 Trials Drag On
ANONYMOUS
Red-Brown Politics: Anarchists Must Not Take the Bait
BILL WEINBERG
Anarchism Returns to Cuba: New Social Center Opens
Breaking the Cycle of Trauma
BENJAMIN OLSON
Black lives mattered in this long-forgotten interracial union
PETER COLE
On A MOVE in Maine
ROBCAT
Alt-right on the Run After East Lansing Antifa Action
CODY CONSTRUCTOR

Campaign to Fight Toxic Prisons Meet & Rally in Pittsburgh
What are you reading this summer?
FE STAFF
Review: Hitler's American Model
R.B.
A Thriller That Might Make You Throw Away Your SmartPhone
RUHE
Review: Individualist Anarchism/Revolutionary Sexualism
COCO BONOBO
Review: Anarchy Explained to My Father
STEVE IZMA
Anarchy on the Air!
FE STAFF

A Brief History of Anarchist Fiction
MARGARET KILLJOY
Review: Crashing the Party: Legacies and Lessons from the RNC 2000
ERIC LAURSEN
Looking Back at France, May 1968
SK
Thoughts on the Significance of France: May 1968
BARRY PATEMAN
The Animal Hungers
JESÚS SEPÚLVEDA
Film review: Black Panther
MATTHEW LUCAS
Review: Radical Gotham: Anarchism in New York City from Schwab's Saloon to Occupy Wall Street
RUI PRETI
Review: A People's History of Civilization
PETER WERBE
Review: Impossible Revolution: Making Sense of the Syrian Tragedy
BILL WEINBERG
PM Press: Ten Years of Literary Molotovs
CRAIG O'HARA
What does it mean to be human or transhuman?
JASON RODGERS
Fiction: The Trials & Tribulations of Mrs. Whale Head
STEVEN CLINE
Review: Against the Grain: A Deep History of the Earliest States
GRACIE FOREST
Review: In Search of the Masterless Men of Newfoundland
QUINCY B. THORN
Review: May Made Me: An Oral History of the 1968 Uprising in France
RUI PRETI
 WHAT'S NEW 



2018 Seattle Anarchist Bookfair
November 17 & 18 at the Vera Project
Details here.
Take a look at the newly re-activated
Christie Books Anarchist Film Archive
Montreal International Anarchist Theatre Festival (May, 2019)


Call for plays, texts, monologues, dance-theatre, puppet shows, mime, in

English

and

French

, on the theme of anarchism or any subject pertaining
to anarchism… Visit http://www.anarchistetheatrefestival.com/en/ to find out more.
2, 3, MANY CHICAGOS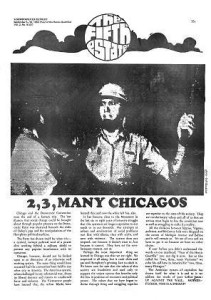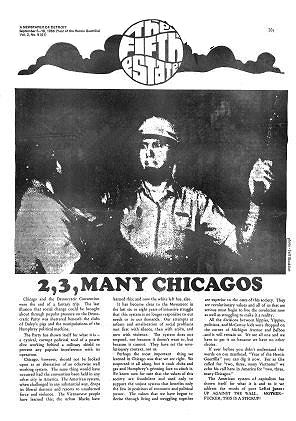 Read Fifth Estate coverage of 1968. We were involved, and we still are.
Readin', Writin' & Revolution!
Past Fifth Estate issues on books & lit available
Click here…
GOING TO AN ANARCHIST BOOKFAIR, DEMO, MEETING, OR OTHER EVENT? TAKE FIFTH ESTATE WITH YOU!
We'll ship you either the current or back issues for free distribution. Email us:
fe–AT–fifthestate–DOT–org
Check out these SPECIAL FIFTH ESTATE OFFERS when you subscribe to our print edition or renew now…
VIETNAM




Learn more about the failed US war and resistance to it from an anarchist/anti-authoritarian perspective

HERE.
Learn more about the Spanish Revolution of 1936 and the important role of the anarchists….
at Fifth Estate's Spanish Revolution Resource Page