Fall 2020,
Fifth Estate #407


CONTENTS
Now We All Know What Matters
FIFTH ESTATE STAFF
Minneapolis Athanor
STEVEN CLINE
A Right Wing Man Named Cotton from the Land of Cotton Tells the Truth About
Racialized Capitalism
FRANK JOYCE
Life in an Autonomous Zone: Seattle's Capitol Hill Organized Protest
RUI PRETI

Seeing Seattle An Interview with Mattilda Bernstein Sycamore
CARA HOFFMAN
The Need for a Revolutionary Anarchist Movement Has Never Been Greater
WAYNE PRICE
Pushing on What's Falling: Uprisings in a Crumbling Empire
BRYAN TUCKER
Liberating Public Health from the State: Anarchist Solutions in the Age of COVID
BRUCE TRIGG
A haiku in Irish and English
GABRIEL ROSENSTOCK
Solidarity in the Time of a Virus: Albert Camus' The Plague
FRAN SHOR
Death & the Zeitgeist
JOHN ZERZAN
Life & Rewilding in the Pandemic
STEVE KIRK
Collective Action in the Time of Covid-19: Reflections from Greece
PANOS PAPADIMITROPOULOS & GEORGE SOTIROPOULOS
Dispatch from Exarchia: A Summer of Unrest in Athens
S. FLYNN
Two Faces of Fascism: COVID-19 New Normal and Trump Backlash Pose Grave Threats to Freedom
BILL WEINBERG
Questions We Have To Ask: Planning Living Spaces for a Revolutionary Future
CHARLIE EBERT
Chile Uprising for Land & Freedom: "This Is A Fight We Should Be Fighting All
Around the World"
GARY HUGHES, ANNE PETERMANN & ORIN LANGELLE
Living Our Lives: The Communal Basis of Social Transformation
JOHN CLARK
The Strike That's Coming: "Who gave you the right to be a landlord?"
DAVID ROVICS
The Hangover in New York: After Wislawa Szymborska's "The End and The Beginning" (poetry)
KATE ENNALS
Vanzetti! That Day (fiction)
ROBERT KNOX
The Forgotten Anarchist Commune in Manchuria: Where World War II Began
FRANCESCO DALESSANDRO
A Spark In Search of a Powder Keg
International surrealist declaration
The Economics & Politics of Gentrification (review)
MIKE WOLD
This Is What Direct Democracy Looks Like (review)
MARIEKE BIVAR
Artists, Anarchists, & Concierges Battle in 19th Century Bohemian Paris
OLCHAR E. LINDSANN
The World we are Fighting For (review)
BILL WEINBERG
Next issue (#408)
The Anarchist Review of Books
Read the Call for Submissions HERE.
"FIFTH ESTATE LIVE"
Tuesdays, 1 p.m. Eastern
Weekly interviews with Fifth Estate writers
For viewing/listening details & archive shows
GO HERE.
VISIT THE FE's ONLINE STORE FOR…
PRINT EDITION SUBS / RENEWALS
CLASSIC RAD POSTERS
FIFTH ESTATE T-SHIRTS
SPECIAL OFFERS
In case you missed it…
Daily Barbarian Number 3
(Insert in FE Issue 319, Winter, 1985)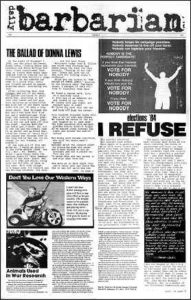 Barbaric Notes
Animals Used in War Research
Elections '84
Vote for Nobody
The Ballad of Donna Lewis
Art & Anarchy
I've Got a Nietzsche Trigger Finger!
If war is the last step, voting is the first!

VIETNAM
The failed US war and resistance to it from an anarchist/anti-authoritarian perspective: it's all here at the Fifth Estate's Vietnam Resource Page.
Spanish Revolution of 1936-1939
Learn more about it and the important role of the anarchists….
at Fifth Estate's Spanish Revolution Resource Page
// Share this on...