Fall 2023
Fifth Estate #414
Subscribe to our print edition
IN THE FE ONLINE STORE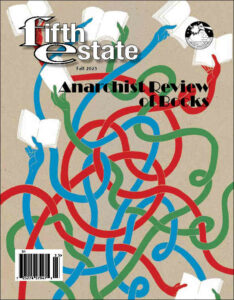 Call for Submissions


We seek writing & art related to literature,


including reviews, articles, interviews, poetry, & fiction.




NEVER SUBMIT!


Except to the Fifth Estate
CONTENTS
ANARCHIST REVIEW OF BOOKS
WORKS REVIEWED
Abolish the Family
Sophie Clark
Polymath: Alex Comfort
Eric Laursen
Pets DC: Rise of the Pets
Ramon Dines and Kit Brixton
Resurgence
Jonathan Leake
Letterpress Revolution
Kathy E. Ferguson
This Rancid Mill
Kyle Decker
Karl Marx Private Eye
Jim Feast
Me, Mikko, and Annikki
Tiitu Takal
Red Squared Montreal
Norman Nawrocki
Present Continuous
David Grundy
Under the Banner of King Death
David Lester and Marcus Rediker
Carmen – film
Dir: Benjamin Millepied
SDS: Students for a Democratic Society
Kirkpatrick Sale
Black Mask from Art to Action
Nadja Millner-Larsen
Rattling Chains
Political Prisoners
On Community
Casey Plett
Eat the Rich
Peter Werbe
Anarchism: A Very Short Intro
Alex Prichard
Ohio
Sean Swain
Elite Capture
Olúfemi Táíwò
ESSAYS
Issue Into
Fifth Estate staff
A.I. Psychosis
Jess Flarity
Arrest in Jen Angel Killing
FE Staff
Even Without Clocks – Fiction
Zvi Baranoff
Burning Colonialism
Jeff Shantz
Remembering Ronald Creagh
FE Staff
Alfredo Cospito Hunger Strike
This selection of Peter Werbe's essays from the pages of the Fifth Estate explore some of the basic themes the publication addresses: anarchism, capitalism, technology, civilization, racism, patriarchy, politics, culture, music, the environment, his trips to Cuba, and other subjects.
Order from the Fifth Estate online store. Check out our

Specal Offers

when you subscribe or renew.
HOW DEEP
IS DEEP ECOLOGY?
From the 1970s on the Fifth Estate has been publishing writings about the crisis of Western civilization and its industrial/technological plague.
The essay How Deep is Deep Ecology? (FE #327, Fall, 1987) began a detailed discussion of these and related issues, a conversation that is at least as relevant today as it was decades ago.
See also the related debate in Was Malthus right? (FE #328, Spring, 1988) and its continuation in Letters to the Editor.
FIFTH ESTATE T-SHIRTS!
CHECK 'EM OUT ON FE FACEBOOK
BUY YOURS IN OUR ONLINE STORE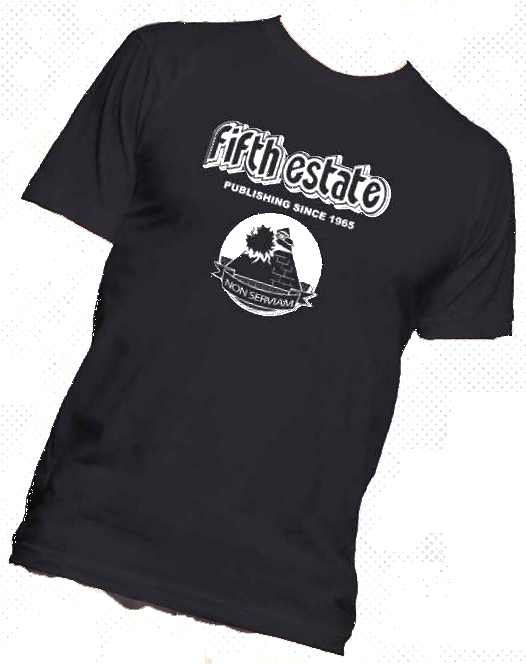 SPECIAL OFFERS
Summer on Fire: A Detroit Novel
by Peter Werbe
$25 for book plus one-year
Fifth Estate subscription or renewal.
$40 for book plus FE t-shirt plus 1-yr sub or renewal

To buy the book only
follow this link to
AK Press.

UKRAINE CRISIS BACKGROUND
The collapse of the Soviet system and its aftermath,
analyzed in the pages of Fifth Estate:
"So, for what it is worth now, the anarchists were right about marxism a century and a half before the rest of the world witnessed the collapse of the communist mystique and the lowering of the hammer and sickle from the towers of the Kremlin…" Read more in "The Triumph of Capital" in FE No. 339, Spring 1992.
SUBSCRIBE AND MORE
VISIT THE FIFTH ESTATE
ONLINE STORE FOR…
PRINT EDITION SUBS / RENEWALS
FIFTH ESTATE T-SHIRTS
SPECIAL OFFERS
VIETNAM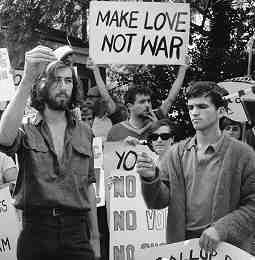 The US assault and resistance to it from an anarchist/anti-authoritarian perspective: it's all here at the Fifth Estate's Vietnam Resource Page.
SPANISH REVOLUTION OF 1936-1939
Learn more about it and the important role of the anarchists….
at Fifth Estate's Spanish Revolution Resource Page.