Fall 2020,
Fifth Estate #407


CONTENTS
Now We All Know What Matters
FIFTH ESTATE STAFF
Minneapolis Athanor
STEVEN CLINE
A Right Wing Man Named Cotton from the Land of Cotton Tells the Truth About
Racialized Capitalism
FRANK JOYCE
Life in an Autonomous Zone: Seattle's Capitol Hill Organized Protest
RUI PRETI

Seeing Seattle An Interview with Mattilda Bernstein Sycamore
CARA HOFFMAN
The Need for a Revolutionary Anarchist Movement Has Never Been Greater
WAYNE PRICE
Pushing on What's Falling: Uprisings in a Crumbling Empire
BRYAN TUCKER
Liberating Public Health from the State: Anarchist Solutions in the Age of COVID
BRUCE TRIGG
A haiku in Irish and English
GABRIEL ROSENSTOCK
Solidarity in the Time of a Virus: Albert Camus' "The Plague"
FRAN SHOR
Death & the Zeitgeist
JOHN ZERZAN
Life & Rewilding in the Pandemic
STEVE KIRK
Collective Action in the Time of Covid-19: Reflections from Greece
PANOS PAPADIMITROPOULOS & GEORGE SOTIROPOULOS
Dispatch from Exarchia: A Summer of Unrest in Athens
S. FLYNN
Two Faces of Fascism: COVID-19 New Normal and Trump Backlash Pose Grave Threats to Freedom
BILL WEINBERG
Questions We Have To Ask: Planning Living Spaces for a Revolutionary Future
CHARLIE EBERT
Chile Uprising for Land & Freedom: "This Is A Fight We Should Be Fighting All
Around the World"
GARY HUGHES, ANNE PETERMANN & ORIN LANGELLE
Living Our Lives: The Communal Basis of Social Transformation
JOHN CLARK
The Strike That's Coming: "Who gave you the right to be a landlord?"
DAVID ROVICS
The Hangover in New York: After Wislawa Szymborska's "The End and The Beginning" (poetry)
KATE ENNALS
Vanzetti! That Day (fiction)
ROBERT KNOX
The Forgotten Anarchist Commune in Manchuria: Where World War II Began
FRANCESCO DALESSANDRO
A Spark In Search of a Powder Keg
International surrealist declaration
The Economics & Politics of Gentrification (review)
MIKE WOLD
This Is What Direct Democracy Looks Like (review)
MARIEKE BIVAR
Artists, Anarchists, & Concierges Battle in 19th Century Bohemian Paris
OLCHAR E. LINDSANN
The World we are Fighting For (review)
BILL WEINBERG
Next issue (#408)
The Anarchist Review of Books
Read the Call for Submissions HERE.
"FIFTH ESTATE LIVE"
Tuesdays, 1 p.m. Eastern
Weekly interviews with Fifth Estate writers
For viewing/listening details & archive shows
GO HERE.
September 29. To be announced.
VISIT THE FE's ONLINE STORE FOR…
PRINT EDITION SUBS / RENEWALS
CLASSIC RAD POSTERS
FIFTH ESTATE T-SHIRTS
SPECIAL OFFERS
RUNNING DOWN THE WALLS 2020
Since 2008, NYC Anarchist Black Cross has been organizing annual events in solidarity with Running Down the Walls (RDTW), which was started by ABCF-Los Angeles in 1999. More than fundraisers for the ABCF Warchest and local organizations, RDTW events have become hubs where folks from overlapping radical and revolutionary communities—multigender, multiracial, and multigenerational—come together and socialize after an enthusiastic five kilometers of running, walking, biking, skating, and rolling.
To find out how you can contribute and get involved, CLICK HERE.
14th NEW YORK CITY ANARCHIST BOOK FAIR
Virtual this year
September 25, 26, 27, 2020
For more information visit
https://anarchistbookfair.net/
The NYC Anarchist Book Fair will be held virtually this year, as well as hosting a few limited in-person outdoor live events.
The website will host presses, live digital conversations and workshops, prerecorded talks and roundtables, a film festival, and archival materials from previous events.
In case you missed it…
Daily Barbarian Number 3
(Insert in FE Issue 319, Winter, 1985)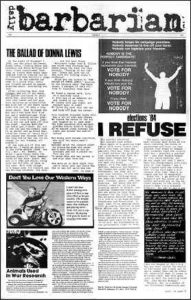 Barbaric Notes
Animals Used in War Research
Elections '84
Vote for Nobody
The Ballad of Donna Lewis
Art & Anarchy
I've Got a Nietzsche Trigger Finger!
If war is the last step, voting is the first!

VIETNAM
The failed US war and resistance to it from an anarchist/anti-authoritarian perspective: it's all here at the Fifth Estate's Vietnam Resource Page.
Spanish Revolution of 1936-1939
Learn more about it and the important role of the anarchists….
at Fifth Estate's Spanish Revolution Resource Page
// Share this on...