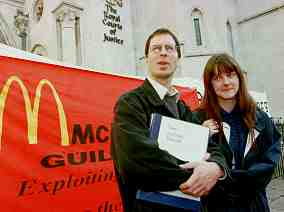 FE Note: The following account comes to us from Greenpeace (London) regarding their campaign against the McDonald's corporation and the multinational's attempt to silence its critics.
The McDonald's Hamburger Corporation is the largest retail property owner and food service organization in the world, with annual sales of nearly 20 million pounds [3.3 million dollars]. But behind the slick advertising and glossy image is the reality—a profiteering racket:
* exploiting workers, low pay, military-style work, no trade unions
* conning customers, overpriced, mass-produced and unhealthy "food"
* indoctrinating children, over 100 million pounds spent annually on sophisticated ads and sly promotions to entice kids
* destroying the environment, with packaging, waste and beef ranching
* abusing animals—millions are imprisoned and murdered every year
* creating a junk culture—plastic and soulless.
Many people over the years have criticized and protested McDonald's practices. In 1985, London Greenpeace (a small, independent collective active since 1970) launched a general anti-McDonald's campaign to coordinate and strengthen opposition.
This has been enormously successful, especially the world-wide annual Anti-McDonald's Day every October 16th (UN World Food Day), involving hundreds of local protests. A detailed six-sided factsheet, "What's Wrong With McDonald's—Everything they Don't Want You To Know," was produced and translated in dozens of countries.
McDonald's initially attempted to ignore such opposition, but then began to counter it. On one hand, they massively stepped up their propaganda efforts (including producing their own "McFact" cards), and began to project a "green caring" image. On the other hand, they began to use the legal system to try to suppress free speech. In Britain, a range of organizations and media, from radical movements and from the establishment, were threatened with costly and time-consuming libel proceedings.
They were forced to "apologize" for daring to criticize this transnational corporation. These have included the Scottish Trade Union Council, vegetarian and green groups, labor research institutes, The Guardian, Channel 4 and many more. However, the grass-roots campaign continued to grow. Then, in September 1990, after having sent spies to London Greenpeace meetings and events, individuals connected to the group had writs served on them charging the group's Factsheet was "libelous." The aim was to try to create a climate of intimidation against activists in order to censor the production and distribution of leaflets to the public.
Fighting for Free Speech
Rather than halting protests, this threat to free speech has only served to further damage McDonald's reputation and to strengthen the determination of its critics. Helen Steel and Dave Morris, backed by London Greenpeace and the McLibel Support Campaign have resolved to fight this major libel case to show that intimidation must never be allowed to succeed.
The defendants are unemployed, yet have been refused Legal Aid. Despite the enormous costs, the amount of work, the difficulties of doing international research and the legal complexities of the case, Helen and Dave are now preparing for a full public trial this winter. Libel laws are stacked in favor of the rich and powerful, and defendants, if they lose, usually face a mammoth bill for costs and "damages," as well as a gag injunction (which, if defied, could lead to jail).
However, the trial will be a public forum for the truth in front of the world's media which will be able to publish, without fear of libel writs, the facts about McDonald's practices presented to the jury. It should be a real eye-opener for millions of people and a spur to further protests and boycotts. This is why the case must be fought.
The Legal News So Far
Helen and Dave are unwaged and are up against the colossal resources of the McDonald's empire. The McLibel Support Campaign was formed to give them the financial and practical backing, and the publicity and solidarity they need.
The fast food giant has admitted it's not their contention that Helen and Dave wrote or printed the Factsheet, but they've refused to drop the case claiming the defendants handed it out on a couple of occasions! Meanwhile, the McLibel 2 have attended 12 preliminary High Court hearings, and drawn up (with informal legal advice) long and detailed documents of "Defense," "Further & Better Particulars," counter summonses, etc.
McDonald's tactics originally were designed to drag out the proceedings, hoping to exhaust or financially cripple the defendants. However, once they realized the defendants' determination to fight the case, they began to dramatically speed up the process and pile on the workload. Research and preparations for the case have been time consuming and expensive. The trial, originally set for October, has now been put back a few months due to the complexity of the case.
This year, Helen and Dave faced a grueling timetable of legal work to prepare for the eventual five-week trial. Normal procedure is that each side must disclose all relevant documents and then a couple of months later, witness statements are exchanged. However, the court turned this on its head and instead ordered the defendants to serve the statements of all their witnesses within three weeks.
This was an attempt by McDonald's to get Helen and Dave's case thrown out the back door in the hope that, due to lack of money and experience, they would be unable to get all the statements they needed in a short period. Despite this, statements from 65 people were served for the defense, including about 30 from experts on the environment, nutrition and health, animal welfare, workplace conditions, etc. McDonald's is looking worried now, and at recent hearings have sent their Vice-President to observe the proceedings.
The Great Cover-up
McDonald's is legally obliged in pretrial procedures to answer a list of defense questions about all the issues in the case, and to hand over all relevant documents about their practices in their possession world-wide, however sensitive. They are refusing to do so. They are terrified of having to reveal what they've been able to hide for so long—that they are a fraud, and that their critics have been right all along. Instead they've provided mostly bland "policy" details, annual reports and accounts of charitable activities. The court is colluding in this cover-up and the fast-food giant is preparing to use the trial as a propaganda platform. McDonald's is also applying for the trial to be held without a jury.
Support the McLibel 2
It's encouraging to discover just how much opposition world-wide there has been, and continues to be, against McDonald's.
There have been protests in support of the defendants, a day of McLibel Solidarity (with protests in a dozen countries) and a 500-strong demonstration in London. Local pickets continue every week.
We thank the hundreds of people who've written letters, articles, passed resolutions and sent donations. As the trial approaches, it's vital that this support grows! Of course, the best response to this threat to free speech is to redouble local protests. Let's show that opposition to injustice can never be silenced and any empire built on exploitation, suffering and lies can be undermined.
What You Can Do
Please step up the protests against McDonald's. Send us reports. Leaflets in bulk from: Veggies, 180 Mansfield Rd., Nottingham, 0602 England. Cost is approximately $15 per thousand plus postage. Veggies also has Anti-Mac posters and badges.
Circulate details of the case.
Send us information about McDonald's practices (news cuttings, research material, personal experiences, etc.)
Please raise money. Lots is needed to prepare the case, to bring witnesses to the trial, etc.
Send messages of support and donations to: McLibel Support Campaign, c/o London Greenpeace, 5 Caledonian Rd., London N1, England. Phone 071 837 7557.
Related
Search Fifth Estate archives HERE.