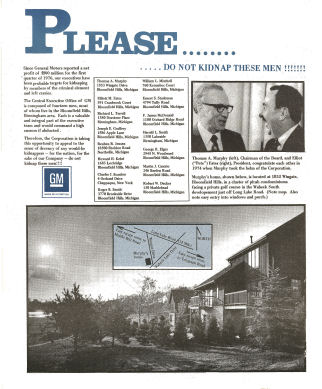 While pondering over the November 14, 1977 issue of Newsweek magazine, we came across mention of the ole Fifth Estate in their article "Businessmen and Terrorism;" a fine representation of that mystical horseshit that makes us want to bring it all up—"objective journalism."
How these seeping sacks of parrot droppings dare write such vacuous, pig-ignorant articles and pass them off as truth is beyond us. Why we wouldn't even spit on the rotting carcasses of these slithering slugs, for fear of offending our saliva!
Finally. All we can muster up against this affront to our decency is: Flattery will get you nowhere!
"In addition, domestic terrorists have been carrying on an active psy-war campaign against top executives. A year ago, a Detroit radical paper called The Fifth Estate ran a phony General Motors advertisement that, under the headline
PLEASE DO NOT KIDNAP THESE MEN,
included pictures and maps (featuring arrows showing 'easy escape routes') that pinpointed the location of GM chairman Thomas A. Murphy's home. [See "Please…Do Not Kidnap These Men," FE #273, June 1976.] And in a recent edition of its irregular publication, The Urban Guerrilla, the NWLF listed the names and addresses of PG&E's chairman and president, along with pictures of their homes."
—Newsweek, November 14, 1977