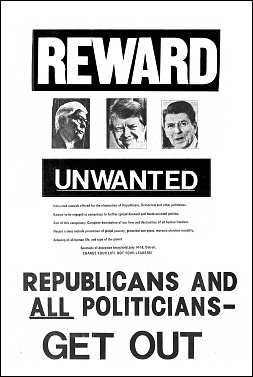 REWARD
UNWANTED
Unlimited rewards offered for the elimination of Republicans, Democrats and other politicians.
Known to be engaged in conspiracy to further spread diseased and death-oriented politics.
Aim of this conspiracy: Complete domination of our lives and destruction of all human freedom.
Recent crimes include promotion of global poverty, genocidal war plans, moronic christian morality, debasing of all human life, and rape of the planet.
Spectacle of deception being held July 14-16, Detroit.
CHANGE YOUR LIFE—NOT YOUR LEADERS!
REPUBLICANS AND ALL POLITICIANS—GET OUT