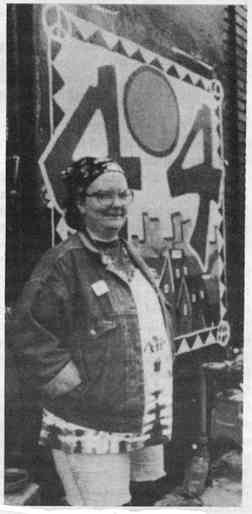 It is very difficult for me to write about Carla in the past tense. When she died of a blood clot in June, I lost my best friend and the Detroit alternative community and the Fifth Estate lost an untiring participant and supporter. Carla embodied the philosophy of community and mutual aid more than anyone I've known. Carla spurned no task as too humble or dangerous.
She was equally willing to face down cop authority or to take out the trash. She was always ready for a road trip—whether to protect a woman's freedom to choose at a clinic defense in Philadelphia, prevent the government from testing nuclear devices on Shoshone land in Nevada, or to protest development of weapons-grade nuclear materials in Oak Ridge, Tenn.
Carla's concern and area of action encompassed the continent, but her primary focus was always her home community of Detroit. She was an enthusiastic FE staff member, attended benefits, helped organize meetings and demonstrations on environmental, peace and social justice issues.
Throughout her adult life she also struggled with a mental disability that challenged her with periodic trips to the dark side of human consciousness. She survived these episodes and gained a unique wisdom from them. Carla battled social injustice and her own debilitating illness with humor and great courage. We all admire her integrity and appreciate her kindness and loyalty as a friend. All of us will miss her on the front lines.