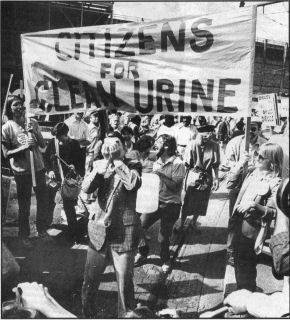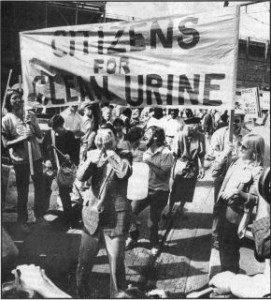 This 1986 intervention by the Fifth Estate gang (under the banner of the Eat The Rich Gang, the Workers Revenge Party, and Citizens for Clean Urine) was carried out at an anti-Reagan demonstration at Detroit's Cobo Arena. At the height of the "Just Say No to Drugs" hysteria, we brought a five-gallon bucket of what we said was our drug-free piss to present to the president. Arguing that the war on drugs was more important than other wars, our leaflet announced, "Let's show our President we support his war on drugs! Bring him a sample of your urine to present to him at Cobo Hall to show you are drug free!"
When we arrived, with some of us in suits and dresses pretending to be model citizens, a leftist goon squad leaped to exclude us from the picket line, not getting the joke. Since we weren't allowed in to see the real president, we offered our urine container to our Reagan clone who proceeded to first drink from it and finally poured the contents over his head in-elation at the success of his Drug War.
— photo by Millard Berry
// Share this on...