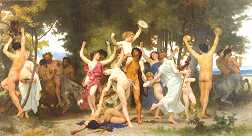 Our call for the re-enchantment of the world isn't a collapse into New Age dreaming, but rather a different, or perhaps more accurate description of what this publication has always stood for—revolution against capitalism, the state, patriarchy, and the forms of misery they generate.
In one of the following essays, Peter Lamborn Wilson asks, "Why aren't we living on permaculture, fairy-haunted communes, and singing together on the porch in the cool of the evening after a fulfilling day in the organic gardens?"
The answer lies with those institutions that are the bulwark of world civilization, the world we must leave.
However, humanity maintains a distant memory of when there was harmony in the community and in the garden. Those ancient ways can provide a pathway for visions of a new world. Articles in the next few pages and throughout the issue can help us envision future possibilities.