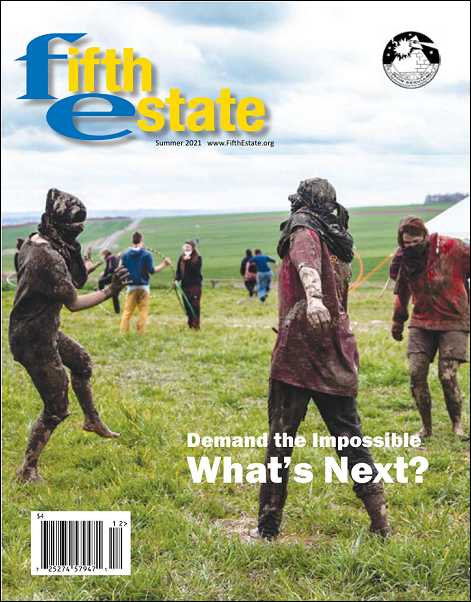 This issue's theme, "What's Next? Demand the Impossible," is a challenge to all our imaginations.
We live in a world faced with the scourge of a plague, and in a country that is an armed madhouse with a good portion of its population seemingly gone off the rails with fascist rage and white fear.
What appears in these pages is nothing like a blueprint for where or how to focus our energies. We know well what we don't want and what doesn't work. In general, we know that creating alternative communities of resistance is what brings results and can provide a model of the world we desire.
The stories of the Paris Commune (p. 42) and the Spanish Revolution (p. 24) relate the heroic efforts of what was achieved by those whose vision we share, but ones that were repressed in blood. We take inspiration from them, but also learn.
This issue follows our Winter 2021 edition. You did not miss an issue in between.
Thank you to everyone who participated in the writing, editing, and production, and to our readers, subscribers, and Sustainers.
New subscribers and subscription renewals are at an all-time high, reflecting the times in which we live, and the engagement with the ideas that animate the anarchist movement.