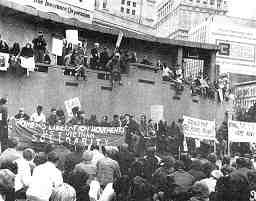 1,500 persons marched from Cass Park to Kennedy Square in downtown Detroit on October 26 as the city's part in the international "Week of Solidarity with the Vietnamese People." The marchers rested in the drained fountain of the square and listened while a variety of speakers denounced the presidential candidates, the war, and the system that produced it.
Featured speakers included an active-duty sailor who described his experiences in a hospital ward with Vietnam casualties and Mike James (at the microphone) who exhorted the crowd, "The time for struggle is long, the time we'll be a part of it is short. Let's go!"
Photo by Oliver Shokouh
// Share this on...