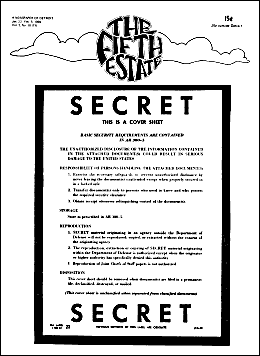 SECRET
THIS IS A COVER SHEET
BASIC SECURITY REQUIREMENTS ARE CONTAINED IN AR 380-5
THE UNAUTHORIZED DISCLOSURE OF THE INFORMATION CONTAINED IN THE ATTACHED DOCUMENT(S) COULD RESULT IN SERIOUS DAMAGE TO THE UNITED STATES
RESPONSIBILITY OF PERSONS HANDLING THE ATTACHED DOCUMENT(S)
1. Exercise the necessary safeguards to prevent unauthorized disclosure by never leaving the document(s) unattended except when properly secured in a locked safe.
2. Transfer document(s) only to persons who need to know and who possess the required security clearance.
3. Obtain receipt whenever relinquishing control of the document(s).
STORAGE
Store as prescribed in AR 380-5.
REPRODUCTION
1. SECRET material originating in an agency outside the Department of Defense will not be reproduced; copied, or extracted without the consent of the originating agency.
2. The reproduction, extraction or copying of SECRET material originating within the Department of Defense is authorized except when the originator or higher authority has specifically denied this authority.
3. Reproduction of Joint Chiefs of Staff papers is not authorized.
DISPOSITION
This cover sheet should be removed when document(s) are filed in a permanent file, declassified, destroyed, or mailed.
(This cover sheet is unclassified when separated from classified documents.)
S E C R E T
PREVIOUS EDITIONS Of THIS LABEL ARE OBSOLETE