LATEST EPISODE:  Host David Rovics speaks with Fifth Estate contributor and primitivist philosopher, John Zerzan.

Read his work in Fifth Estate HERE.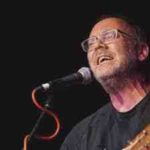 Fifth Estate Live is a weekly hour-long livestreamed broadcast each Tuesday at 1 p.m. Eastern, 10 a.m. Pacific, featuring FE writers and contributors.
Hosted by singer/songwriter and Fifth Estate contributor David Rovics and produced by Fifth Estate editorial collective member Peter Werbe.
It is broadcast on the Facebook pages of Popular Resistance, KBOO Community Radio, at www.davidrovics.com/quarantine and elsewhere.
PREVIOUS SHOWS

June 30, André Naffis-Sahely, author of "Heart of a Stranger," about borders and migration.
June 23, Kathy Ferguson talks about Emma Goldman's life and times and more
June 16, Steve Kirk, publisher of Oak Journal
June 9: FE staff member Peter Werbe
June 2: David speaks with Clayton Pyke
May 26: Guest, John Clark (series premiere)
// Share this on...