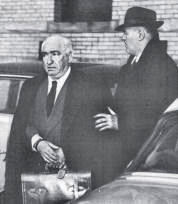 Wilhelm Reich (1897-1957) was an Austrian-born physician, psychoanalyst, and revolutionary. He worked with Sigmund Freud in the 1920s before breaking with him. His sex-political activities in Germany led to his denunciation by the Communist Party in the early 1930s and expulsion from the International Psychoanalytic Association at the insistence of his former mentor.
Reich developed the concept of Orgone energy to describe a universal life force. When the Nazis came to power in 1933, he was forced to flee to Norway where his research was fiercely attacked. In 1939, he moved to the United States, but soon became the target of an FDA campaign to destroy and censor his work.
The government obtained an injunction against the sale of his orgone energy accumulators, and Reich was charged with contempt for violating it. He was sentenced to two years in prison, and in August 1956, several tons of his publications were burned by the FDA in a New York City incinerator much as they had been by the Nazis. He died in Federal prison of heart failure over a year later just days before he was due to apply for parole
His books include The Mass Psychology of Fascism, The Function of the Orgasm, The Murder of Christ, and Listen, Little Man.
The Wilhelm Reich Museum in Maine, encourages visits to its exhibits and programs. On the web at www.wilhelmreichmuseum.org
or at Orgonon, Dodge Pond Road, P.O. Box 687, Rangeley ME 04970.