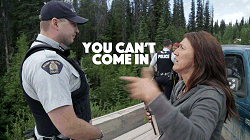 Broken leather latch
time's dispatch
an oil-stained suitcase
containing
tar sands underwear
surrounded by
industrial overwear.
Over where?
Not over here
you bastards
not anywhere!
This ain't
no time
for caged canaries
with velvet beaks.
We must bite
the hand that feeds us
tonight.
We will sing
our splintered songs
to shred
skylines
borderlines
and pipelines.
We will dance
to the beat
of 100
studded walking sticks
hitting hard
on the frozen ground.
We will roar
to the sound
of rising spirits
breaking hearts
and cracking heads.
We will crash
and burn
under the
blood red moon
and come again.
Hell yeah
we will
come again
and soon.
We will
move together
like 1000
homeless moles
loosed from the earth
at the quaking
crack of dawn.
Never mind
the blood money
falling
from the
rusted wormholes
in the sky.
Never mind
the hollow hiss
of bus-in-ess
as usual.
Never mind
the cash registers
ringing out
their siren song
of legal tender
love gone wrong.
Never mind
the ledger books
balanced on
dinosaur bones
unearthed
beneath our feet.
Bones
Ancient bones
Bones for sale!
Never mind.
It's all good.
Don't weep.
It is
what
it is.
Go back to sleep.
No, wait
Wake up!
Do not disturb
those decayed bones!
Disturb the disturbers instead!
Ron Sakolsky is an anarcho-surrealist who lives and writes on Denman Island, BC. His latest book is Breaking Loose: Mutual Acquiescence or Mutual Aid? See review on Page 36.