GOING TO AN ANARCHIST BOOKFAIR, DEMO, MEETING, OR OTHER EVENT?
TAKE FIFTH ESTATE WITH YOU!
We'll ship you either the current or back issues for free distribution.
Email fe AT fifthestate DOT org
WHAT'S NEW
The Fifth Estate will be at The Third Annual East Bay Anarchist Conversation & Book Event, Sat., Dec. 7, at the Humanist Hall 390 27th Street, Oakland, CA from 10AM to 8PM.
Look for the Fifth Estate at the
Eugene Infoshop table.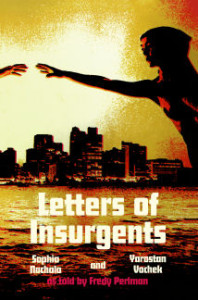 Good news! Seattle's Left Bank Books is republishing Letters of Insurgents, Fredy Perlman's historical novel about love and revolution in the East bloc and Western states of the mid-20th century.  READ MORE >

DO YOU HAVE OLD BACK ISSUES OF Fifth Estate?
We are digitizing the text of all Fifth Estate issues going back almost 50 years and posting them to this site. See what's already on our Archive.
We are missing some key early issues. If you have pre-1976 issues, please consider sending them to us so we can document our history. For more info send us an email. Send issues to: F.E. Archive, c/o P.O. Box 14432, Seattle, WA 98114.