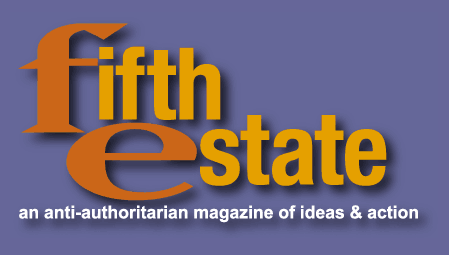 Now Available: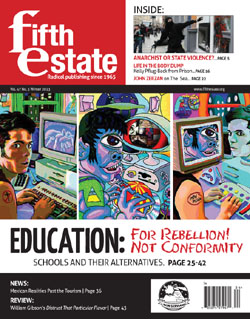 FIFTH ESTATE

Winter 2013 Vol. 47, #3, #388

Issue Theme: Education: For Rebellion! Not Conformity

Winter is the traditional time when students are deep in their studies. At present, there are tuition strikes, austerity strikes, student loan debt crises, and other dilemmas regarding education playing out in the public arena. For much of mainstream society, even the very value and meaning of education is now in question.
Contents
Anarchist Violence or State Violence?
Propaganda of the Deed
Taking it OFF the streets!

From Ritual to Resistance

John Zerzan in London
Vietnam:

Gucci Meets Communist Revolution

Art in Support of Prisoners:

Marie Mason update

Seattle Grand Jury Targets Anarchists
Life in the Body dump:

Kelly Pflug-Back from prison

Operation 8:

Terror Down Under

Cleveland 4:

Invented crime claims victims

Drones:

Death by Spreadsheet

The Sea

by John Zerzan

Special Section on Anarchism & Education

What Do We Learn in School?
A Short History of Schools
Anti-Authoritarian Personalities & Standard Schools
Quebec Student Strike
Unschooling & Free Schools
New Orleans Free School Network
Frontlines of Educational Revolt
Toronto's Free School

Mexico: The Realities of Tourism
Reviews

William Gibson

by Paul J. Comeau

Miranda Mellis

by Penelope Rosemont

Food Not Bombs

by Dave Not Bombs

WWAD:

What Would Anarchists Do?
Buy The Current Issue of
Fifth Estate
Subscribe
If you're not currently a subscriber to Fifth Estate, please consider becoming one.
Subscriptions are FREE for Prisoners & Soldiers.
You can also order a bundle for distribution.
Donate
General donations are greatly needed!
Or you can donate to the Fifth Estate Prisoner/GI Free Subscription Fund.
Thank you!