CONTENTS
Cuba: The Train to Matanzas
Peter Werbe
The Light Source for Power
Raoul Vaneigem
Donald Trump & Wilhelm Reich
Anonymous
Happy Birthday, Utopia!
John Clark
No Borders!
Challenging the Nation State
Leila Al Shami
Defenders
Ron Sakolsky
Fences & Nature's Glory
Chellis Glendinning
A Transwoman at TSA Security
Jane Clark
Tearing Down the Prisons
Anonymous
Border Lines & Border Regions
Dennis Fox
Teaching Migration
Reg Johanson
Waiting for the Barbarians
Jesús Sepúlveda
The DIY Bandits
Ben Absurdo
Stoned on Ritualistic Bullshit
El Habib Louai
Shopping List for My Newborn Girl
Jessamine O'Connor
Beyond Automation
Bernard Marszalek
Pétroleuses & Witches
Wren Awry
Breaking Loose – Review
Ruhe
Montreal @ Theatre Festival
SMV: Social Media Virus – Play
A. Esmie Wright
Women's Bodies – Review
Marieke Bivar
Anarchism: A Generative Force
Ian Lovelace
Future Tension
Jason Rodgers
Anti-Anarchism in Literature
Jim Feast
Happy Birthday, Unabomber?
David Watson
 

WHAT'S NEW
SPECIAL OFFER

Get our 40th anniversary issue and our 50th anniversary issue for just $10 (sorry, U.S. only).
OR
Get both anniversary issues PLUS a 4-issue U.S. subscription or renewal for only $20.
For details go here.
JUNE 11, 2016
International Day of Solidarity With Marius Mason & All Longterm Anarchist Prisoners. Get involved. Spread the word.
http://june11.org/
FIFTH ESTATE 50TH ANNIVERSARY MUSEUM EXHIBIT


Detroit Historical Museum,

"Start the Presses: 50 years of the Fifth Estate" Open to the public during museum hours. Runs to August 2016. Free.
If you can't get to Detroit, take a look at the exhibit here.

Enduring Voices: 50 years of the Fifth Estate in 3 minutes–view video here.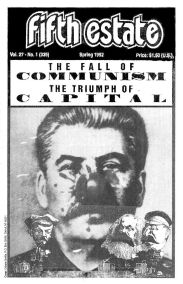 ISSUE 339, SPRING 1992  Leonard Peltier and Big Mountain + 404 Willis: Detroit's Autonomous Zone + Berkman's Tunnel to Freedom + AIDS: Sex in the Safe + Detroit Summer + The Triumph of Capital + 4th World War Against Native Peoples + Free Women of Spain …and more
in our ARCHIVE.
GOING TO AN ANARCHIST BOOKFAIR, DEMO, MEETING, OR OTHER EVENT? TAKE FIFTH ESTATE WITH YOU! We'll ship you either the current or back issues for free distribution. Email us:  fe–at–fifthestate–dot–org