CONTENTS
 

WHAT'S NEW
SPECIAL OFFER

Get our 40th anniversary issue and our 50th anniversary issue for just $10 (sorry, U.S. only).
OR
Get both anniversary issues PLUS a 4-issue U.S. subscription or renewal for only $20.
For details go here.
FIFTH ESTATE 50TH ANNIVERSARY MUSEUM EXHIBIT


Detroit Historical Museum,


"Start the Presses: 50 years of the Fifth Estate"
THURSDAY, SEPT. 1, 2016
Special Museum Program:
The Fifth Estate Under Surveillance. Fifth Estate founder, Harvey Ovshinsky & FE staffer, Peter Werbe, will describe the work of the Detroit Police Red Squad & FBI in keeping tabs on the publication.
Free.
Final day of exhibit: Sept. 4, 2016

If you can't get to Detroit, take a look at the exhibit here.

1936-2016
Learn more about the Spanish Revolution of 1936 and the important role of the anarchists….
at Fifth Estate's Spanish Revolution Resource Page
Enduring Voices: 50 years of the Fifth Estate in 3 minutes–view video here.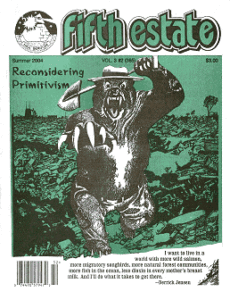 ISSUE 365, Summer 2004
RECONSIDERING PRIMITIVISM + THE ELECTIONS + ALL ISMS ARE WASMS…and more
in our ARCHIVE.
GOING TO AN ANARCHIST BOOKFAIR, DEMO, MEETING, OR OTHER EVENT? TAKE FIFTH ESTATE WITH YOU! We'll ship you either the current or back issues for free distribution. Email us:  fe–at–fifthestate–dot–org