Fall/Winter 2014


THEME:

Art & Anarchy
CONTENTS
Click on titles in blue to access them on this site.
Welcome to the Idiocene
Max Cafard
Logistical Anarchism
Jeff Shantz
VR Troopers
Jason Rodgers
Seattle's Left Bank Books
Sylvie Kashdan
Anarchist Golf?
Joseph Winogrond
Free Marius Jacob Mason
Dirty Yeti: DIY House
Taylor Weech
Death & Deadening
Bryan Tucker
Civilization & Collapse
John Zerzan
On the Sale of Bodies
Thaddeus Blanchett
Tune, Occasion, and Memory of Minisota
Josefine W.W. Parker (Voyager)
Love & Letters of Insurgents
Artnoose
Cazzarola!: Anarchy, Romani, Love
Steve Izma
The Failure of Non-Violence
Norma D. Kotomy
Political Music is Mysterious
Kristi Phillips
Fifth Estate on the Web
Quincy B. Thorn
Domesticated Animals & Us
Ian Erik Smith
No Dance; No Revo
Peter Werbe
How and why I wrote Cazzarola!
Norman Nawrocki
ART & ANARCHY SECTION

25 Years of Puppets
David Solnit
Surrealism is (Still) Elsewhere
Ron Sakolsky
Anarchist Art in the Gallery
Tom Nys
Anarchism & Yiddish Theatre
Jim Feast
GOING TO AN ANARCHIST BOOKFAIR, DEMO, MEETING, OR OTHER EVENT?
TAKE FIFTH ESTATE WITH YOU!
We'll ship you either the current or back issues for free distribution.
Email fe AT fifthestate DOT org
WHAT'S NEW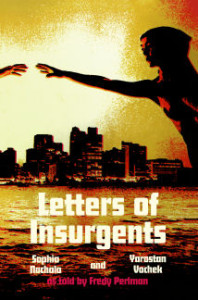 Good news! Seattle's Left Bank Books is republishing Letters of Insurgents, Fredy Perlman's historical novel about love and revolution in the East bloc and Western states of the mid-20th century.  READ MORE >

2014 NEW ORLEANS BOOKFAIR
November 9, 2014 at The Zeitgeist Interdisciplinary Arts Center
Check out their WEBSITE and FACEBOOK or write them at abookfair (at) gmail (dot) com
Montreal's 10th International Anarchist Theatre Festival, May 18, 19, 20, 2015. The Montreal International Anarchist Theatre Festival (MIATF), the only theatre festival in the world dedicated to showcasing anarchist theatre, is currently seeking submissions to be staged May 18,19,20, 2015. Application deadline: October 31, 2014. Visit site for more details.
DO YOU HAVE OLD BACK ISSUES OF Fifth Estate?
We are digitizing the text of all Fifth Estate issues going back almost 50 years and posting them to this site. See what's already on our Archive.
We are missing some key early issues. If you have pre-1976 issues, please consider sending them to us so we can document our history. For more info send us an email. Send issues to: F.E. Archive, c/o P.O. Box 14432, Seattle, WA 98114.