CONTENTS
 

WHAT'S NEW
SPECIAL OFFER

Get our 40th anniversary issue and our 50th anniversary issue for just $10 (sorry, U.S. only).
OR
Get both anniversary issues PLUS a 4-issue U.S. subscription or renewal for only $20.
For details go here.
 1936-2016
Learn more about the Spanish Revolution of 1936 and the important role of the anarchists….
at Fifth Estate's Spanish Revolution Resource Page
Le 12ème Festival International de Théâtre Anarchiste de Montréal (2017) Recherche Des Pièces!




Montreal's 12th Annual International Anarchist Theatre Festival (2017) Seeks Plays!


… the only festival in the world dedicated to anarchist theatre, is looking for plays, texts, monologues, dance-theatre, puppet shows, mime, in English and French, on the theme of anarchism or any subject pertaining to anarchism, i.e. against all forms of oppression including the State, capitalism, war, capitalism, patriarchy, etc.
See details here.

Enduring Voices: 50 years of the Fifth Estate in 3 minutes–view video here.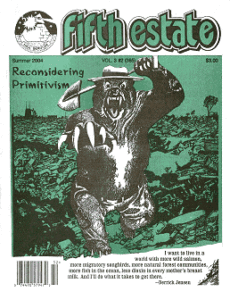 ISSUE 365, Summer 2004
RECONSIDERING PRIMITIVISM + THE ELECTIONS + ALL ISMS ARE WASMS…and more
in our ARCHIVE.
GOING TO AN ANARCHIST BOOKFAIR, DEMO, MEETING, OR OTHER EVENT? TAKE FIFTH ESTATE WITH YOU! We'll ship you either the current or back issues for free distribution. Email us:  fe–at–fifthestate–dot–org