CONTENTS
 

WHAT'S NEW
CUBA, URGENT:
Comrades working to revive anarchism in Cuba need our immediate financial support. For U.S. dollar donations, visit the Cuban Anarchist Solidarity Fund. For Euro-zone contributions, click here. For more details, read the article in our current issue.
FIFTH ESTATE 50th ANNIVERSARY T-SHIRT!
Was $15; now, $12
Only size: XLs left
New Subscription & t-shirt
Was $25; now $20!

FIFTH ESTATE 50TH ANNIVERSARY MUSEUM EXHIBIT


Detroit Historical Museum,

"Start the Presses: 50 years of the Fifth Estate" Open to the public during museum hours. Runs to August 2016. Free.
If you can't get to Detroit, take a look at the exhibit here.

Enduring Voices: 50 years of the Fifth Estate in 3 minutes–view video here.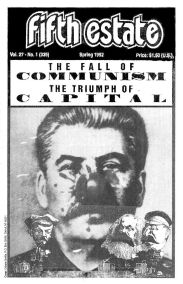 ISSUE 339, SPRING 1992  Leonard Peltier and Big Mountain + 404 Willis: Detroit's Autonomous Zone + Berkman's Tunnel to Freedom + AIDS: Sex in the Safe + Detroit Summer + The Triumph of Capital + 4th World War Against Native Peoples + Free Women of Spain …and more
in our ARCHIVE.
GOING TO AN ANARCHIST BOOKFAIR, DEMO, MEETING, OR OTHER EVENT? TAKE FIFTH ESTATE WITH YOU! We'll ship you either the current or back issues for free distribution. Email us:  fe–at–fifthestate–dot–org