Vietnam Resource Page
Alphabetical by author's last name

Angry Workers Group
Mutinies can Stop U.S. Wars
Fifth Estate #323, Summer, 1986
https://www.fifthestate.org/archive/323-summer-1986/mutinies-can-stop-u-s-wars/

The past few years have seen a wholesale rewriting of the history of American involvement in Vietnam. From the official government versions of the events to extremely violent television shows and movies like "The Deer Hunter" and "Rambo," the people who rule us are attempting to glamorize the slaughter of the Indochinese Wars as a prelude to the next war. It might be in the Philippines or Southern Africa, Central America or Korea. It might be fought on five or ten fronts simultaneously with the Soviet Union. Or maybe they'll send us off to massacre the populations of Spain or Italy or Britain in the suppression of a revolutionary civil war in Western Europe. Read more…

anon.
Anti-war GIs March
Fifth Estate #93, November 27-December 10, 1969.
https://www.fifthestate.org/archive/93-november-27-december-10-1969/anti-war-gis-march/
In August 1968 GIs at Ft. Hood, Texas refused to go to Chicago for riot duty. Their protest was the first in what has been a long series of anti-war and anti-military protests. On Nov. 15, 1969 the most radical of these GIs assembled to form their own contingent in the anti-war demonstrations. Read more…
anon.
Capitalism to Build Vietnamese "Socialism"
Fifth Estate #277, October, 1976
https://www.fifthestate.org/archive/277-october-1976/capitalism-to-build-vietnamese-socialism/

The "socialist" government of unified Vietnam, after telling the Vietnamese people for the past twenty years that they must expel the imperialist nations of France and the United States, is proposing to invite private corporations of those same countries, along with those of Japan, Canada, Australia and Norway, to exploit Vietnam's wealth of cheap labor and natural resources–all in the name of "industrial development" and production. Read more…
anon.
Million Refuse Registration: Draft Law at Standstill
Fifth Estate, #308, January 19, 1982
https://www.fifthestate.org/archive/308-january-19-1982/million-refuse-registration/

Faced with upwards of a million men who have refused to register for the draft, President Reagan announced on December 10, a halt to prosecutions scheduled in the cases of 161 resisters. This means that currently there are no legal sanctions for failing to comply with the Selective Service Act provisions and hopefully it will impel hundreds of thousands of additional young men to refuse to have any part of the U.S. war machine. Read more…
anon.
"Stop the Coral Sea!"
Fifth Estate #323, Summer, 1986
https://www.fifthestate.org/archive/323-summer-1986/stop-the-coral-sea/

(This article originally appeared as "Berkeley Strikes the Coral Sea" in Fifth Estate #146, November 25 – December 8, 1971 (Vol. 6 No. 18) page 2)
ALAMEDA, Calif.—With a Navy band blaring "Anchors Aweigh," the USS Coral Sea sailed out of the Golden Gate for Vietnam Nov. 12 despite a mass petition drive by anti-war sailors, an offer of sanctuary to deserters from the Berkeley, Calif. City Council and a threat of mass disruption from civilian picketers. Also, three officers aboard the Coral Sea handed in their resignation requests in protest against the Indochina war. Read more…
Dave Bailey
Hell No to the Draft,
Fifth Estate #41, November 1-15, 1967
https://www.fifthestate.org/archive/41-november-1-15-1967/hell-no-to-the-draft/
October 16, 1967 was the first day of massive draft resistance in Detroit and throughout the United States. From coast to coast thousands of Americans demonstrated against the Vietnam war and against draft slavery. In total, over 2,000 young men returned their draft cards to the Federal Government. In San Francisco over 200 cards were returned; in New York over 300; in Chicago, 250. Similar actions were held in Denver, Kansas City, St. Louis, Des Moines, and Philadelphia. In Washington D.C. prior to the giant Mobilization almost 1,000 young men said no to the draft by depositing their cards at the office of the Attorney General. Read more…
Jonny Ball
A Changing Vietnam: After decades of war and revolution, a communist country looks increasingly like the capitalist countries it fought against.
Fifth Estate #388, Winter, 2013
https://www.fifthestate.org/archive/388-winter-2013/a-changing-vietnam/
Having lived and worked in Vietnam for a year now, I have only a slightly better understanding of the country than when I first arrived. This is a country of extremely complex paradoxes and antagonisms. I remain dumbfounded by the disparities, hypocrisies and corruption that are endemic at every level of every institution. One could argue this is a common feature of all nation-states and market-oriented societies, and this may be true. But for one styling itself as socialist, run by a communist party with a firm monopoly of political power, these features seem even more maniacal. Read more…
Rob Blurton
Mutiny at the Outposts of Empire: GI Resistance in the Vietnam Era:
The Fifth Estate #346, Summer, 1995
https://www.fifthestate.org/archive/346-summer-1995/mutiny-outposts-empire/
Thirty years ago, the most powerful military colossus ever assembled, its triumphant legions spread throughout the world, committed an expeditionary force of its best troops to the Asian mainland. "The American Army of 1965," wrote an admiring historian, "was headstrong with confidence, sharply honed to a lethal fighting edge … [and] eager to test its newly acquired wings of air mobility." In other words, it felt invincible. Battalions dispatched to Indochina were told that the local communist guerrilla-bandits were politically isolated and would quickly succumb to their superior might, but instead they found themselves locked in desperate battle with a determined adversary enjoying massive popular support. This expeditionary force gradually became a gigantic field army of over half a million men, and the lightning war turned into a meat-grinder. Read more…
Richard Boyle
GI Revolts: The Breakdown of the U.S. Army in Vietnam
http://theanarchistlibrary.org/library/richard-boyle-gi-revolts-the-breakdown-of-the-u-s-army-in-vietnam
The Vietnam War was one of the least popular in American history. It was
also the least "popular" with the GI's who were sent to fight it. By the
late 1960s, news of GI unrest was being carried on TV and in newspapers
around the country and Vietnam vets were speaking at anti-war
demonstrations.
But word of the GI resistance in Vietnam itself trickled back more slowly —
the soldiers flashing peace signs and Black Power salutes, the group
refusals to fight, anti-war petitions and demonstrations, and even the
fragging of officers. What we've read in the newspapers, however, has just
been bits and pieces. Seldom have we had a chance to hear the whole story
from the GI's themselves. Read more…
Louie Collins
Anti-War GIs Face Trial, Court Martial
Fifth Estate #31, June 1-15, 1967
https://www.fifthestate.org/archive/31-june-1-15-1967/anti-war-gis-face-trial-court-martial/
Can the Army brass deny a GI his constitutional rights to hold and express ideas differing from those held by the administration in Washington—including ideas in direct opposition to the Vietnam war? These are the key issues of civil liberties in the now celebrated case of Howard Petrick, the twenty one year old Fort Hood based Pfc., recently threatened with court martial solely for expressing his anti-war and socialist-oriented beliefs to his fellow soldiers. Read more…
Detroit Committee to End the War in Vietnam
Vietnam Newsletter Vol. 1, No. 2
Fifth Estate #8, May, 1966
https://www.fifthestate.org/archive/8-may-1966/vietnam-newsletter/
The major activity of the DCEWV since the March 25-27 International Days of Protest was a demonstration at a fundraising function of the 17th District Democrats. About 35 demonstrators carrying signs reading: STOP THE BOMBINGS; BRING THE TROOPS HOME; I WAS A LIBERAL UNTIL I DISCOVERED THE DEMOCRATIC PARTY SELLOUT: and MARTHA (Griffiths) MUST GO, Two-page insert with related articles. Read more…
Stanley Diamond
Some contrasts: Primitive vs. Civilized War
Fifth Estate #312, Spring, 1983
https://www.fifthestate.org/archive/312-spring-1983/primitive-vs-civilized-war/
This article is excerpted from "The Search for the Primitive," an essay written by Stanley Diamond in 1963 and later revised and expanded for inclusion in his book In Search of the Primitive (Transaction Books, 1981).
By presenting contrasting modes of dealing with conflict and violence in society, we hope to at a minimum cast doubts on the notion of the "inevitability" of modern civilization and its forms as well as the common argument that modern war is only an expanded version of earlier cultural experiences (and hence the cynical conclusion that nothing has changed). As Diamond writes elsewhere in the same volume, "Our idea of primitive society as existing in a state of dynamic equilibrium and as expressive of human and natural rhythms is a logical projection of civilized societies and is in opposition to civilization's actual state. But it also coincides with the real historical condition of primitive societies. The longing for a primitive mode of existence is no mere fantasy or sentimental whim; it is consonant with fundamental human needs, the fulfillment of which (although in different form) is a precondition for our survival." Read more…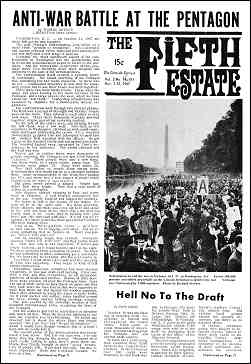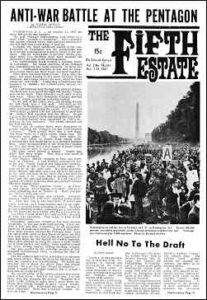 Thorne Dreyer
Antiwar Battle at the Pentagon
Fifth Estate #41, November 1-15, 1967
https://www.fifthestate.org/archive/41-november-1-15-1967/antiwar-battle-at-the-pentagon/
On October 21, 1967, the white left got its shit together. The gala Pentagon confrontation, long billed as a move from "protest to resistance," was a dramatic and intense political event. Many had been dubious; few can now deny that a new stage is upon us. Certainly the most significant aspect of the confrontation at Washington was the spontaneous way in which the demonstrators began to relate to the soldiers. And the remarkable occurrence of two, possibly three GI's throwing down their weapons and defecting to the side of the demonstrators. Read more…
Jim Feast
Vietnam: Where the Political is Still Personal
Fifth Estate #385 Fall, 2011
https://www.fifthestate.org/archive/385-fall-2011/vietnam-political-still-personal/
A review of In the Crossfire: Adventures of a Vietnamese Revolutionary, by Ngo Van; Eds. Ken Knabb and Helene Fleury; Trans. Helene Fleury, Hillary Horrocks, Ken Knabb, and Naomi Sager; AK Press; 2010; $19.95. Read more…
Fifth Estate Collective
'A' Company Won't Go
Fifth Estate #87, September 4-17, 1969
https://www.fifthestate.org/archive/87-september-4-17-1969/a-company-wont-go/
For five days they had obeyed orders to make this push. Each time they had been thrown back by the invisible enemy who waited thru the rain of bombs and artillery shells for the Americans to come close, then picked them off with deadly crossfire. Read more…
Fifth Estate Collective
American Servicemen's Union
Fifth Estate #81, June 12-25, 1969, Vol. 4 No. 3, page 5
https://www.fifthestate.org/archive/81-june-12-25-1969/american-servicemens-union/
The following interview with American Servicemen's Union (ASU) chairman Pvt. Andrew Stapp (Ret.) was conducted by Fifth Estate staffer Dena Clamage. Read more…
Fifth Estate Collective
Army found guilty…sentenced to death
Fifth Estate #100, March 5-18, 1970, Vol. 4, No. 22, page 5
https://www.fifthestate.org/archive/100-march-5-18-1970/army-found-guilty-sentenced-to-death/
Reprinted from The Bond: The Voice of the American Servicemen's Union. GIs from Fort Lewis and McChord Air Force Base in Washington held a trial of the Brass and its war in Vietnam before an audience of 1,500 at the University of Washington. A jury of twelve active-duty soldiers found the military "guilty" on charges of genocide, crimes against humanity and violations of soldiers' rights. Read more…
Fifth Estate Collective
Army Stockades Blow
Fifth Estate #84, July 24-August 6, 1969
https://www.fifthestate.org/archive/84-july-24-august-6-1969/army-stockades-blow/
The national office of the American Servicemen's Union announced that two revolts had taken place in army stockades recently; on June 14 at Ft. Jackson, South Carolina and on June 22 at Ft. Riley, Kansas. Read more…
Fifth Estate Collective
Brass v. GIs United
Fifth Estate #83, July 10-23, 1969
https://www.fifthestate.org/archive/83-july-10-23-1969/brass-v-gis-united/
The Army brass at Ft. Jackson is still trying to screw GIs for exercising their Constitutional rights. Pvt. Tommy Woodfin, one of the founders of GIs United Against the War in Vietnam, has just come through a second court martial. Read more…
Fifth Estate Collective
Bravo Co. Won't Go: Vietnam Mutiny
Fifth Estate #326, Summer 1987
(Reprint from FE #128, April 1-14, 1971)
https://www.fifthestate.org/archive/326-summer-1987/bravo-co-wont-go/

In March, 1971 53 men of Bravo Troop, 1st Squadron, 1st Cavalry, Americal Division refused orders to move into a battle zone near the Laotian border to retrieve abandoned equipment. One of the men who refused to obey the command said he did not follow orders because "the reason given wasn't a very good one… I didn't see any sense in risking any more lives." The headquarters of the American Serviceman's Union (ASU) in New York City announced full support of the 53 men and said it "will continue to support all acts of resistance in the military." The 15,000 member ASU is a revolutionary GI union with affiliates across the world including Vietnam. The military brass are in a jam as increasing numbers of rank and file GIs are refusing to play out the John Wayne strategies of the Pentagon. Read more…
Fifth Estate Collective
Detroit GI
Fifth Estate #70, January 9-22, 1969
https://www.fifthestate.org/archive/70-january-9-22-1969/detroit-gi/
Rudy Bell is a GI from Detroit and a veteran of Vietnam. He is also being fucked by the Army. Big news, you say, it happens every day. The difference is that the Army is trying to do a job on him because he refused to go to Chicago during the Democratic Convention last August.
Fifth Estate Collective
Ft. Jackson Struggle Continues
Fifth Estate #84, July 24-August 6, 1969
https://www.fifthestate.org/archive/84-july-24-august-6-1969/ft-jackson-struggle-continues/
At Fort Jackson, S. Carolina, where GIs United Against the War in Vietnam was founded, Pvts. Joseph Cole and Tommie Woodfin, two members of the famous Ft. Jackson Eight have been given official notice that they will receive undesirable discharges from the Army. Read more…
Fifth Estate Collective
No Bombs! No Borders! Abolish All Armies!
Fifth Estate #323, Summer, 1986
https://www.fifthestate.org/archive/323-summer-1986/no-bombs-no-borders/

President Reagan came into office with an understanding apparently lacking in the two previous administrations which had been still reeling from the egregious defeat of the U.S. imperial forces in Vietnam: If U.S. capital was to continue to function successfully as a permanent war economy (as it has since 1942), a corresponding war psychosis was going to have to be created to justify programs of economic austerity for the working class and poor while making enormous expenditures of state funds for armaments. Read more…
Fifth Estate Collective
San Francisco GIs March
Fifth Estate #65, October 31-November 13, 1968
https://www.fifthestate.org/archive/65-october-31-november-13-1968/san-francisco-gis-march/
Anti-war activists, both inside and outside the armed forces, viewed the demonstration as the beginning of an alliance that will grow in the months to come. Read more…
Fifth Estate Collective
Sincavitch Gets Army Deal
Fifth Estate #84, July 24-August 6, 1969
https://www.fifthestate.org/archive/84-july-24-august-6-1969/sincavitch-gets-army-deal/
After messing around with Tom Sincavitch's "Discharge for the good of the service" and finally turning it down, the Army has offered him a deal. Read more…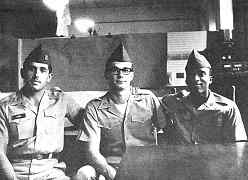 Fifth Estate Collective
Those who Refused
Fifth Estate #12, August 15, 1966
https://www.fifthestate.org/archive/12-august-15-1966/those-who-refused/
On June 30, 1966 three GIs, Pvt. Dennis Mora, PFC James Johnson, and Pvt. David Samas, began court action to prohibit the U.S. Secretary of Defense and the Secretary of the Army from ordering them to Vietnam. Numerous anti-war and civil rights groups rallied to support the group, who became known as the Fort Hood Three. READ MORE…
Fifth Estate Collective
Victory at Ft. Jackson
Fifth Estate #80, May 29-June 11, 1969
https://www.fifthestate.org/archive/80-may-29-june-11-1969/victory-at-ft-jackson/

The Army announced May 20 its "final disposition of the cases of the three anti-war soldiers who had been in the Fort Jackson stockade for two months. There will be no courts-martial for Joseph Cole, Eugene Jose Rudder and Andrew Pulley; they were released from the stockade today and the Army says that they will be discharged from the service in short order. Read more.Read more.
Fifth Estate Collective
Vietnam's Untold Victim: The Land
Fifth Estate #321, Indian Summer, 1985
https://www.fifthestate.org/archive/321-indian-summer-1985/vietnams-untold-victim-the-land/
The picture is of an already delicate ecology devastated not only by direct assault on it through herbicides, bombing and bulldozing of lands, but on all the secondary and tertiary effects of disruption of agriculture, war-caused neglect, and destructive land-use caused by widespread hunger. Read more…
H.  Bruce Franklin
The Anti-war Movement We Are Supposed to Forget
The Chronicle of Higher Education, October 20, 2000
available at:  http://lists.village.virginia.edu/lists_archive/sixties-l/3923.html
This article discusses and refutes several false steriotypes about the anti-Vietnam War movement of the 1960s and 1970s. It gives some history about when and how opposition to U.S. agression against Vietnam actually began, and who opposed it and who engaged in actions against it, including discussion of the influence of the civil rights movement and radical African-Americans' critiques of U.S. foreign policy, the involvement of soldiers and veterans, as well as anti-Vietnam War sentiments and activities among poor and working class people and those with less education. Read more…
Fred Gardner
Presidio Case: "Mutineers" Take the Stand
Fifth Estate #78, May 1-14, 1969
https://www.fifthestate.org/archive/78-may-1-14-1969/presidio-case/
"It would have ended," Pulley said, "as soon as someone would come up and listen to us and find out what we were there for." Read more…
Barbara Garson
Their Revolution or Ours!
http://theanarchistlibrary.org/library/barbara-garson-their-revolution-or-ours

This article gives a firsthand description of the experiences of an anarchist/anti-authoritarian who was part of the Shelter Half, a coffee–house for G.I.s, in Tacoma, Washington during the late 1960s and early 1970s. Read more…
Jeff Gerth
Kent State Massacre
Fifth Estate #105, May 14-27, 1970, Vol. 5 No. 1, page 24
https://www.fifthestate.org/archive/105-may-14-27-1970/kent-state-massacre/
William Schroeder, Allison Krause, Jeffrey Miller, Sandy Schcur. Four brothers and sisters were murdered by the Ohio National Guard on the Kent State University campus May 4. At least 15 others were wounded. Three are on the critical list. Injuries to police officers were minimal. Read more…
Guardian (New York)
Civilian-GI Anti-War Marches Sweep Country
Fifth Estate #77, April 17-30, 1969
https://www.fifthestate.org/archive/77-april-17-30-1969/civilian-gi-anti-war-marches-sweep-country/
The anti-war movement surged back onto the streets Easter weekend with major demonstrations taking place in six cities, and smaller actions in 44 others. Read more…
Ron Halstead
Midland Anti-Napalm March
Fifth Estate #12, August 15, 1966
https://www.fifthestate.org/archive/12-august-15-1966/midland-anti-napalm-march/
On August 7 and 8 about 100 persons from cities in Michigan and Ohio gathered at Midland, Michigan, national headquarters of Dow Chemical Corp., to protest Dow's participation in the manufacture of napalm. Read more…
Robert D. Heinl Jr.
The Collapse of the Armed Forces
Fifth Estate #335, Winter, 1990-91
https://www.fifthestate.org/archive/335-winter-1990-91/the-collapse-of-the-armed-forces/
The morale, discipline and battle worthiness of the U.S. Armed Forces are, with a few salient exceptions, lower and worse than at any time in this century and possibly in the history of the United States. Read more…
Mike Kaufman
Ft. Dix Erupts
FE #90, October 16-29, 1969
https://www.fifthestate.org/archive/90-october-16-29-1969/ft-dix-erupts/
Thousands of demonstrators, marching under the banners of many anti-war and militant groups, were turned back by tear gas as they marched onto the mammoth military reservation. Read more…
J.R. Kennedy
Strike Back
FE #105, May 14-27, 1970
https://www.fifthestate.org/archive/105-may-14-27-1970/strike-back/
Last week we went out on strike. We shut down universities and colleges across the country. Over 400 schools learned the power of the political strike. Hundreds of thousands of students moved militantly in rage over the Cambodia invasion and the Kent State murders. Read more…
Jerry Lembcke
Debunking a spitting image
The Boston Globe, April 30, 2005
http://www.boston.com/news/globe/editorial_opinion/oped/articles/2005/04/30/debunking_a_spitting_image/
In this article Jerry Lembcke discusses his research on the stories about spat-upon Vietnam veterans and refutes such stories. Read more…
Jerry Lembcke
The Hanoi Jane Legacy: The Many Faces of Jane Fonda
Fifth Estate #395, Winter 2016
https://www.fifthestate.org/archive/395-winter-2016-50th-anniversary/the-hanoi-jane-legacy/
In 1968, Jane Fonda was best known for the role she played as the scantily-clad Barbarella in the film by the same title. Shortly thereafter, she emerged as an influential voice in the movement against the war in Vietnam, leaving as her most lasting contribution the support she gave the resistance efforts of GIs and veterans. Read more…
Jerry Lembcke
Hanoi Jane: War, Sex, and Fantasies of Betrayal. University of Massachusetts Press, 2010
In this book, Jerry Lembcke argues that the charges of treachery against Jane Fonda during the Vietnam War combine traces of fact with heavy doses of fiction to create a potent symbol of feminine perfidy. The myth fills the need of all too many patriotic Americans to explain defeat in Vietnam through fantasies of home-front betrayal and the emasculation of the national will-to-war.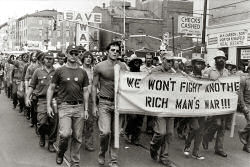 Jerry Lembcke
Nobody Spat on American GIs!: The Mythical Imagery of the American "Great Betrayal" Narrative
Fifth Estate #394, Summer 2015
https://www.fifthestate.org/archive/394-summer-2015/nobody-spat-on-american-gis/
Stories of spat-on veterans began proliferating in the U.S. media in 1990 as the country ramped up for the first Persian Gulf War. Anti-war activists had spat on troops returning from Vietnam, or so the stories went, and to make sure that did not happen again, Americans were urged to rally around the men and women dispatched to the Gulf. Within weeks, the nation was awash with yellow ribbons, symbols of support for troops, and by inference, the mission on which they had been sent. Read more…
Jerry Lembcke
The Spitting Image: Myth, Memory, and the Legacy of Vietnam. NYU Press, 1998
This book extensively examines and debunks the stories of Vietnam-era anti-war activists treating Vietnam veterans abusively. The author was a Vietnam veteran who came home from the war and joined Vietnam Veterans Against the War. Lembcke points out that "the peace movement reached out to veterans as potential allies in a struggle against an unpopular war, while many veterans were joining the anti-war movement by the late 1960s."
Liberation News Service
Army Attacks Coffee House
Fifth Estate #96, January 8-21, 1970
https://www.fifthestate.org/archive/96-january-8-21-1970/army-attacks-coffee-house/
The Army has declared the Shelter Half coffee house near Ft. Lewis, Washington "off limits to all personnel serving in the Armed Forces." It is the first time the brass has tried this tactic in its campaign to squash GI rights. READ MORE…
Liberation News Service
Fort Dix Riot Trial Starts
Fifth Estate #92, November 13-26, 1969
https://www.fifthestate.org/archive/92-november-13-26-1969/fort-dix-riot-trial-starts/
But in two days of court martial proceedings (Nov. 4 and 5), the Army has been able to get only two scared young GIs—both of whom admit having been threatened with charges of their own if they refused to help the prosecution—to testify against Jeffrey Russell, first of the four to come to trial. Read more…
Liberation News Service
GI coffee house bust set up
Fifth Estate #86, August 21-September 3, 1969
https://www.fifthestate.org/archive/86-august-21-september-3-1969/gi-coffee-house-bust-set-up/
The military brass and local police harassed the Dix coffee house staff. People were arrested for phony traffic violations. The staff's Wrightstown apartment was raided. But the GIs want the coffee house and the staff knows it. The coffee house survives; more GIs come every night. Read more…
Liberation News Service
GIs in PRG
Fifth Estate #89, October 2-15, 1969
https://www.fifthestate.org/archive/89-october-2-15-1969/gis-in-prg/
In a startling development, recent figures in the San Francisco Chronicle show field desertions in Vietnam to be running at the rate of ten a day. Read more…
Liberation News Service
Songmy: The Massacre
Fifth Estate #94, December 11-24, 1969
https://www.fifthestate.org/archive/94-december-11-24-1969/songmy/
To talk of Songmy with horror is to be naive. All of our presence in Vietnam has been a massacre and based on a program of calculated genocide. Read more…
Bob Lynetter
GIs Picnic for Peace
Fifth Estate #105, May 14-27, 1970
https://www.fifthestate.org/archive/105-may-14-27-1970/gis-picnic-for-peace/
The American Servicemen's Union (ASU) at Selfridge Air Force Base is inviting the peace movement to join them on the base in a "Picnic for Peace" on Memorial Day, May 30. This is an excellent opportunity for the entire anti-war movement in the area to give support to and show solidarity with a vital faction of the movement, the GIs who are standing up to be counted. Read more…
Nick Medvecky
Vietnam: The Dirty War Told By the Men Who Fought and Opposed It
Fifth Estate #351, Summer 1998
https://www.fifthestate.org/archive/351-summer-1998/vietnam-the-dirty-war-told-by-the-men-who-fought-and-opposed-it/
a review of: Winter Soldiers: An Oral History of Vietnam Veterans Against the War by Richard Stacewicz. Twayne Publishers, 1997, 471 pp.
By 1970 more than 50,000 Vietnam veterans actively opposed the war-over half of them combat experienced-officers as well as enlisted men. This article discusses the book, Winter Soldiers, the oral history of the Vietnam Veterans Against The War, whose participation greatly strengthened the anti-war movement. Read more…
Bob Nirkind
The My Lai Massacre: A Bi-Centennial Moment of American Racism
Fifth Estate #270, March, 1976, Vol. 11, No. 6, page 12
https://www.fifthestate.org/archive/270-march-1976-2/lai-massacre/
The article discusses the infamous slaughter of civilians in My Lai, Vietnam by U.S. troops. Read more…
Mike Parisi
The New GI in Viet Nam
Industrial Worker, March, 1972
https://libcom.org/history/new-gi-viet-nam
"Today's GI is more concerned with staying alive than with taking chances. Many GIs are just simply refusing to go out on patrols in which they are asked to risk their lives. Many are in some of the top units in Vietnam. A good example of what I'm talking about was the assault a couple of years ago on Hamburger Hill, when after the third attempt to take it and the loss of several lives, they simply refused to go up the hill.
"Along with all of this is the increasing number of fraggings that are taking place. Fragging has become a standard response of the Army's little people–the grunts and rear-area GIs–to any harassment or unpopular missions imposed by their superiors. 'Frag 'em' means to threaten, intimidate, or if necessary kill the officer responsible with a fragmentation grenade. Interestingly enough, though, the threats are turning into action. A number of GIs place bets to see who will pick off their NCO. In units where grenades are withheld they still manage to find them." Read more…
Dr. Norman Pollack
Vietnam
Fifth Estate #2, December 2-16, 1965
https://www.fifthestate.org/archive/2-december-2-16-1965/vietnam/
"Perhaps the biggest mistake many of us make when speaking about Vietnam is that we focus only on Vietnam, and in doing so, engage in a debate with the forces supporting the Administration on their own ground. Not that a case against the war could not be made even there, for it could. But I think the time has come to enlarge the inquiry and to make a case not simply against the war, but against the structure of American society which makes that war possible in the first place." Read more…
Dennis Raymond
"Shame" (Film review)
Fifth Estate #80, May 29-June 11, 1969
https://www.fifthestate.org/archive/80-may-29-june-11-1969/shame/
Bergman has put us in the position of the Vietnamese and all those occupied peoples we have seen being interrogated and punished and frightened until they can no longer tell friend from enemy, liberation from extermination. Read moreRead more.
Ed Rom
LBJ, The Game Is Over: Thousands Will Demand End to Viet Slaughter
Fifth Estate #40, October 15-31, 1967
https://www.fifthestate.org/archive/40-october-15-31-1967/lbj-the-game-is-over/
"Confront the Warmakers" is no idle phrase. Coming together from throughout the nation on October 21 and 22, war opponents will march, demonstrate, petition and culminate the activities by mass acts of civil disobedience inside the Pentagon. The confrontation will be real and physical. Of the 200,000 plus participants, 10,000 are expected to sit-in to block the doorways of the Pentagon, says the National Mobilizing Committee, "preventing people from entering to work but permitting them to leave. Read more…
Sheila Ryan
Fort Dix Stockade: 'Obedience to Law is Freedom'
Fifth Estate #88, September 18-October 1, 1969
https://www.fifthestate.org/archive/88-september-18-october-1-1969/fort-dix-stockade/
The deplorable conditions Ryan describes led to a massive stockade revolt at the base in June of 1969 which was put down with severe brutality. Many of the prisoners involved face serious charges of rioting and destruction of Army property and several have already been convicted. Read more…
Chris Singer
"Visit Romantic Sweden"
Fifth Estate #66, November 14-27, 1968
https://www.fifthestate.org/archive/66-november-14-27-1968/visit-romantic-sweden/
"Many soldiers desert for political or moral reasons," she said; but some leave their units simply because they don't like the army or the work they do. But, she added, "middle-class youth have been definitely radicalized by their experience in the army." Read more…
Giuseppi Slater
"Mutiny Trial"
Fifth Estate #73, February 20-March 5, 1969
https://www.fifthestate.org/archive/73-february-20-march-5-1969/mutiny-trial/
Pvt. Louis Osczepinski, one of 27 soldiers being tried for mutiny at the Presidio Army Base in San Francisco, attempted to commit suicide on Feb. 14… Osczepinski, along with Pvt. Lawrence Reidel, was scheduled to hear the verdict in his case some time during the week of Feb. 17 through 24. On Feb. 13, Pvt. Henry Sood, the first of the Presidio 27 to be tried, was convicted and sentenced to 15 years hard labor. Read more…
Giuseppi Slater
"Presidio Mutiny Trial"
Fifth Estate #74, March 5-19, 1969, Vol. 3 No. 22, page 5
https://www.fifthestate.org/archive/74-march-5-19-1969/presidio-mutiny-trial/
Pvts. Lawrence Reidel and Louis Osczepinski were sentenced on Feb. 15, to 14 and 16 years of imprisonment for their part in the non-violent Presidio protest last October. … military officials privately admit that the three sentences already handed down "will probably form the pattern for the rest of the cases." Read more…
Michael Smith
"Free Speech for GIs: Analysis of a victory"
Fifth Estate #82, June 26-July 9, 1969
https://www.fifthestate.org/archive/82-june-26-july-9-1969/free-speech-for-gis/
Much that is rotten in American society comes to a head on a military installation—rigid class distinctions, racism, meaningless work, boredom, and of course, authoritarianism. … As a result, most enlisted men oppose the war, albeit often in a confused way. Black soldiers, of whom there are disproportionate numbers in combat training, oppose the war nearly to a man. Read more…
Harvey Stone
G.I. Coffee Houses for Peace
Fifth Estate #59, August 1-14, 1968
https://www.fifthestate.org/archive/59-august-1-14-1968/g-i-coffee-houses-for-peace/
The war in Vietnam is now the longest war in America's violent history. In addition to the genocide being committed against the Vietnamese, thousands upon thousands of American G.I.'s have been killed or wounded. But "G.I." is merely a label we use; beneath the uniforms are real people. Sometimes we forget that.
Truong Nhu Tang with David Chanoff and Doan Van Toai
A Vietcong memoir. Harcourt Brace Jovanovich, Publishers, 1985
This book recounts the experiences of Truong Nhu Tang, a non-Communist participant in the Vietnamese national resistance to foreign domination, as urban organizer and participant in the National Liberation Front, and his feelings of betrayal by the Communists. Tang describes the varying and often conflicting perspectives in the NLF. Many participants came to feel that its goals were, in the end, subverted by the authoritarian rule of the Communist Party. By the end of the war he was disillusioned with the new national government's determination to control all political and social activities everywhere in Vietnam. As he says, "Many of us also believed we were fighting for the human dignity of our people, not just a national revolution, but a national and democratic revolution (the terms are those of the NLF and PRG) that would have ensured free political and cultural expression among the variety of ethnic groups, religions, and regions–and among the commonwealth of individuals–that make up the nation.
"But the national democratic revolution itself became a casualty, choked by the arrogance of power among those who were responsible for the nation's fate."
Ngo Van
In the Crossfire: Adventures of a Vietnamese Revolutionary, Edited by Ken Knabb and Helene Fleury. Translated from the French by Helene Fleury, Hilary Horrocks, Ken Knabb and Naomi Sager. AK Press. Online at bopsecrets.org.
http://www.bopsecrets.org/vietnam/index.htm
In the Crossfire is a translation of Ngo Van's Au pays de la Cloche felée (Paris: L'Insomniaque, 2000) and of excerpts from Ngo Van's Au pays d'Heloi'se (L'Insomniaque, 2005). It has been edited by Ken Knabb and Helene Fleury and translated by Helene Fleury, Hilary Horrocks, Ken Knabb and Naomi Sager. Read more…
Vietnam Veterans Against the War
The Winter Soldier Investigation (Testimony given in Detroit, Michigan, January 31 and February 1 and 2, 1971)
http://www2.iath.virginia.edu/sixties/HTML_docs/Resources/Primary/Winter_Soldier/WS_entry.html
Painfully documented the massive scale of the massacres, torture of civilians and other war crimes perpetrated against the Vietnamese people. Read more…
David Watson
Looking back on the Vietnam War: History and forgetting
Fifth Estate #346, Summer, 1995
https://www.fifthestate.org/archive/346-summer-1995/looking-back-vietnam-war/
From Author's note: Reality continues to be manufactured: When this essay first appeared in Fifth Estate in the spring of 1985, the Vietnam War already seemed to be receding into ancient history. Central America was at that time being battered by the latest incarnation of "the best and the brightest," and it was being done more conveniently with money and proxies, rather than with "American boys," who tend to get themselves unceremoniously killed while smashing up other people's neighborhoods. A few hundred thousand deaths and mutilations later, we still await the tearful retrospectives with their admixture of regret and denial.
American society was left little wiser by its experience in southeast Asia; the United States has a handful of interventions and wars under its belt since 1975, and even some failures to act where it might, as in Bosnia, have prevented a massacre. (Yes, I know, on some other planet with an entirely different history. The Vietnam War taught my generation that any empire intervening anywhere was bound to cause disasters. Nevertheless, that Haiti and the former Yugoslavia further fragmented what remained of dissident movements in the U.S. reflects new conditions and shifting ground.) Read more…
David Zeiger
Did the GI Movement End the Vietnam War? And what is the real legacy of the GI coffeehouses?
The Rag Blog, July 25, 2008
http://theragblog.blogspot.com/2008/07/david-zeiger-did-gi-movement-end.html
David Zeiger, producer
Sir! No Sir! Displaced Films, 2005
www.sirnosir.com
Powerful documentary on the GI antiwar movement during the Vietnam period.
Howard Zinn
GI opposition to the Vietnam War, 1965-1973
https://libcom.org/library/soldiers-opposition-to-vietnam-war-zinn
Extracted from A People's History of the United States
Historian Howard Zinn on the opposition to the Vietnam War by American soldiers.
"The capacity for independent judgment among ordinary Americans is probably best shown by the swift development of antiwar feeling among American GIs-volunteers and draftees who came mostly from lower-income groups. There had been, earlier in American history, in stances of soldiers' disaffection from the war: isolated mutinies in the Revolutionary War, refusal of reenlistment in the midst of hostilities in the Mexican war, desertion and conscientious objection in World War I and World War II. But Vietnam produced opposition by soldiers and veterans on a scale, and with a fervor, never seen before." Read more…