Winter 2020,
Fifth Estate #405


 GOING TO AN ANARCHIST BOOKFAIR, DEMO, MEETING, OR OTHER EVENT? TAKE FIFTH ESTATE WITH YOU!
We'll ship you either the current or back issues for free distribution. Email us: fe–AT–fifthestate–DOT–org
CONTENTS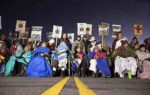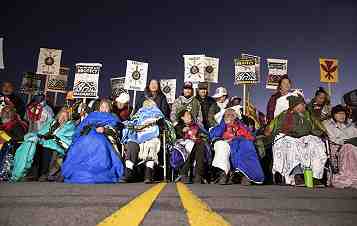 The Logic of the Telescope Against the wisdom of Hawaii's Native People
STEVE KIRK
Seattle Far-Right Shooter's Trial Ends in Hung Jury: How can we get justice in an unjust system?
RUI PRETI
Museum Chronicles Fightback & Victories Against Gentrification: The storefront housing the Museum of Reclaimed Urban Space in NYC.
BILL WEINBERG
Why anarchists should take up the 50-year-old project of the Gray Panthers
ERIC LAURSEN
We Have Work To Do Before Catastrophe Strikes: Musings on My 84th Birthday
DAVE HANSON
Fifth Estate Censored by Prison Authorities: All issues blocked to Pennsylvania prisoners
FE STAFF
Feral Technology: Is going backward the only way forward?
RICH DANA (RICARDO FERAL)
After the Buses Burned: Will Van Spronsen's Final Act Against Evil
DAVID ROVICS
The Marvelous Dance of Anarchy & Individuality: On the occasion of Emma Goldman's 150th Birthday
RON SAKOLSKY
Transhumanism? Apocalypse Soon?
JOHN ZERZAN
Will there be a new military draft? Why should we care?
EDWARD HASBROUCK
IWW Takes on the Freelance Journalist Gig Economy
KAMAL ISLAM
Raging Against the Machine at the Dawn of the Anthropocene (review of Red Round Globe Hot Burning)
JOHN CLARK
Anarchist Cuba: Countercultural Politics in the Early Twentieth Century (review)
S.K.
In Havana? Conference on Trotsky?
PETER WERBE
Between Earth and Empire: From the Necrocene to the Beloved Community (review)
PETER LINEBAUGH
Godless: 150 Years of Disbelief (review)
PETER WERBE
Religion: Aztec Style
LOWELL BOILEAU
Parenting Without God: How to Raise Moral, Ethical, and Intelligent Children, Free from Religious Dogma (review)
PW
The U.S. War On Vietnam: Reflection on a Refugee Journey (review)
WENDY WILDFLOWER
Let Us Now Praise Idle Men (and Women)
SUZANNE FREEMAN
Freedom in Solidarity: My Experiences in the May 1968 Uprising (review)
S.K.
A history of a little Detroit printing co-op that gave us "Society of the Spectacle" & a lot more (review)
PETER WERBE
Infomodities: All the Psy-Ops that Fit the Screen
JASON RODGERS
Film as Social Critique: The work of Glauber Rocha (review)
MURIEL LUCAS
Rebellions Rock the World: But, is there still a vision of revolution?
PAUL WALKER
Call of Duterte: Western Reporting on the Philippines' Totalitarian Drift
TOM SYKES
Letters to the Fifth Estate

 WHAT'S NEW 



1969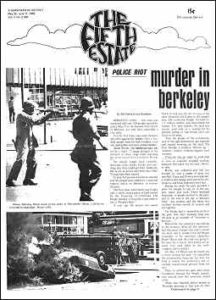 Murder in Berkeley, see FE #80, May 29-June 11, 1969 in our Archive.

The Fall Anti-War Offensive has begun. Ending the war in Vietnam is the most important task facing the American people and the American people must be the force to end it. Read more in FE# 89, October 2-15, 1969.
Help Project FANG
expand its critical support for imprisoned activists.
Project FANG was established in 2016 to fill a gap in the ongoing support work for eco and animal rights prisoners in the U.S. The focus is on funding to help pay for prison visitation costs for friends and family of these comrades.
To find out how you can help, visit Project FANG's FundRazr page at https://fundrazr.com/b1aQR5 .
SEATTLE N30 1999
NO WTO!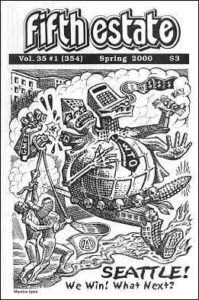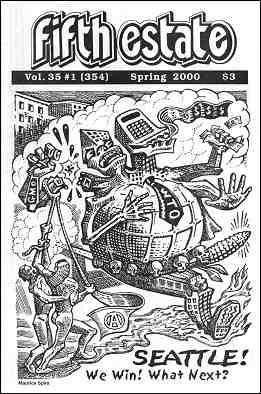 For once in a political protest, when we chanted "The whole world is watching!" we were telling the truth. Catch up on radical history with FE #354, Spring 2000.
EMMA ON FILM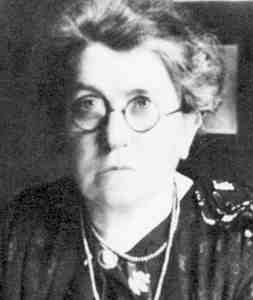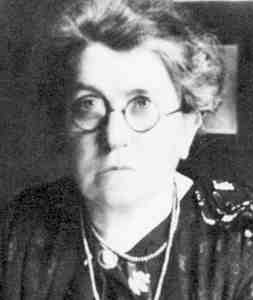 2019 marks the 150th anniversary of Emma Goldman's birth and the 100th anniversary of her deportation from the U.S. Watch and listen to an interview with her in 1937 HERE.
SPECIAL OFFER FOR NEW AND RENEWING FE SUBSCRIBERS
Our friends at Black & Red have made several of their titles available to FE readers for $5 each when they subscribe or renew. Check 'em out here.
HONG KONG
The Fifth Estate supports the struggle of the anarchists and anti-authoritarians of Hong Kong for a world in which social solidarity and individual freedom can create community. We join them in opposing the brutal dictatorship of the Chinese government and its supporters in Hong Kong as much as we ppose the tyranny of the U.S. and other governments.
Read more…
 1989
As Old Regimes Collapse…
Read FE coverage: The Anarchist Spectre in Eastern Europe and They Just Said 'No'
VIETNAM
The failed US war and resistance to it from an anarchist/anti-authoritarian perspective: it's all here at the Fifth Estate's Vietnam Resource Page.
Spanish Revolution of 1936-1939
Learn more about it and the important role of the anarchists….
at Fifth Estate's Spanish Revolution Resource Page
// Share this on...