Fifth Estate Issue #94, December 11-24, 1969
WEB CONTENTS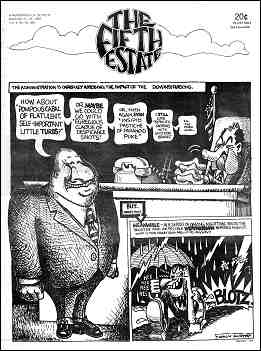 Text for front page cartoon strip
Caption for Panel 1: The administration is carefully assessing the impact of the demonstrations.
Man in business suit (Nixon's vice president, Spiro Agnew, known for his alliterative insults. E.g, demonstrators were "nattering, nabobs of negativity"): How about "pompous cabal of flatulent, self-important little TURDS?"
Or MAYBE we could go with "egregious claque of despicable snots."
Or, then again EVEN "insipid pastiche of paranoid puke."
I STILL like "syphilitic morons with shit for brains…"
On the other hand…
Caption for Panel 2: But, what's this? MEANWHILE–in a series of daring nighttime raids, the sinister and incredible WEATHERMAN strikes again!!!
What is this crazy bastard up to, anyway?
(Credit: Willy Murphy / Berkeley Tribe)